What email tools should I use for email prospecting?
Before we even begin, let's define email prospecting.
Email Prospecting: Sending lots of cold emails to people we don't know.
Now that we have that out of the way, let's turn to why we often can't use our CRM for this purpose. First, CRMs are built for working with clients, not prospects. This should be obvious after all, as they're called CRMs (short for "Customer Relationship Management"), and not PRMs ("Prospect Relationship Management"). Second, they often don't come equipped with the functionality that we absolutely NEED for prospecting.
What functionality will you need for prospecting?
Transactional email

Email verification

Mail merge

A/B testing

Open tracking

Link click tracking

All-in-one tools (for steps 3 - 6)
If your CRM has these things, that's great, and you can stop reading now. But, your CRM doesn't have these things (which is why you're here), let's go through the options.
1. Transactional email
What is it? The ability to send TONS of emails at once.
Why do we need it? Most email services are not built for prospecting due to spam concerns. For instance, Gmail caps sends at 500 per 24 hours (with some finesse, we can get to 2,000).
How can I get it? If you're only going to be sending 20 emails each day, you may not need it. And, I may actually recommend not using it to start off, as this takes a bit of technical know-how. But, if you decide you want to make the plunge, you can look to Sendgrid, Mailgun, or Mandrill (by Mailchimp).
2. Email verification
What is it? A system that makes sure you're not sending an email out to an invalid email address.
Why do we need it? Your email address has a reputation score and every time you send a junk email, one that gets marked as spam or flagged, your email reputation takes a hit. If your reputation is bad, you end up in the spam box, or even worse, with a non-functional email address. It takes months to build your reputation - don't burn it.
How can I get it? Neverbounce, Unbounce, and Kickbox are just a few.
3 Mail merge
What is it? The ability to personalize every single email with a name, address, city, state, zip, price, etc.
Why do we need it? Because people don't care about, or respond to, emails that are not personalized.
How can I get it? Tons of ways, but this is usually a function of a service that you will use, or an email plugin. Think about how your marketing tools let you customize emails with a recipient's name.
4. A/B Testing
What is it? How to measure small differences. Think "what if I used a different subject line" or "what if I use their name" or "I wonder which of the two works better?". This is A/B testing. And it is IMPORTANT.
Why do we need it? It's how we measure the effectiveness of our emails and the result can take open rates from 15% --> 55% and how we get reply rates from 0.5% --> double digits. Think back to science class, this is your test v your control.
How can I get it? A good email plugin will also have this ability and we'll take you through a few below.
5 & 6. Open Tracking and Link Click Tracking
What is it? It's a bit technical - it's actually a small image called a tracking pixel, that's hidden inside an email that you send. When the image is opened, you are notified.
Why do we need it? Want to know who opened your emails, at what time of day, and how many times. Want to know who clicked your link? We do too! You'll also be able to start the conversation with "Did you get my email. by chance?" and know whether they did...
7. What All-In-One tools should I look into?
Yesware - we've used it and we love it. If you want to continue to use gmail, this may be your solution. They have a free trial and plans start at just $15/Mo. A huge bonus is that they let you schedule the second series of emails to go out if the first hasn't been opened, or responded to. Their app for Outlook was a bit clunky, though.
YAMM (Yet Another Mail Merge) - works through Google Sheets and gmail. If you're a spreadsheet power-user, take look. Their pricing is about as cheap as it gets (50/day free and then plans start at $40/year for an individual license) and they have all of the core functionality you need, without ever leaving Google Sheets.
MixMax - A very powerful tool that's heavy on calendaring functionality. At $25/Mo. it's still reasonable, but more expensive than some competitors. You can also create workflow automation with a $49/Mo. package, which we LOVE.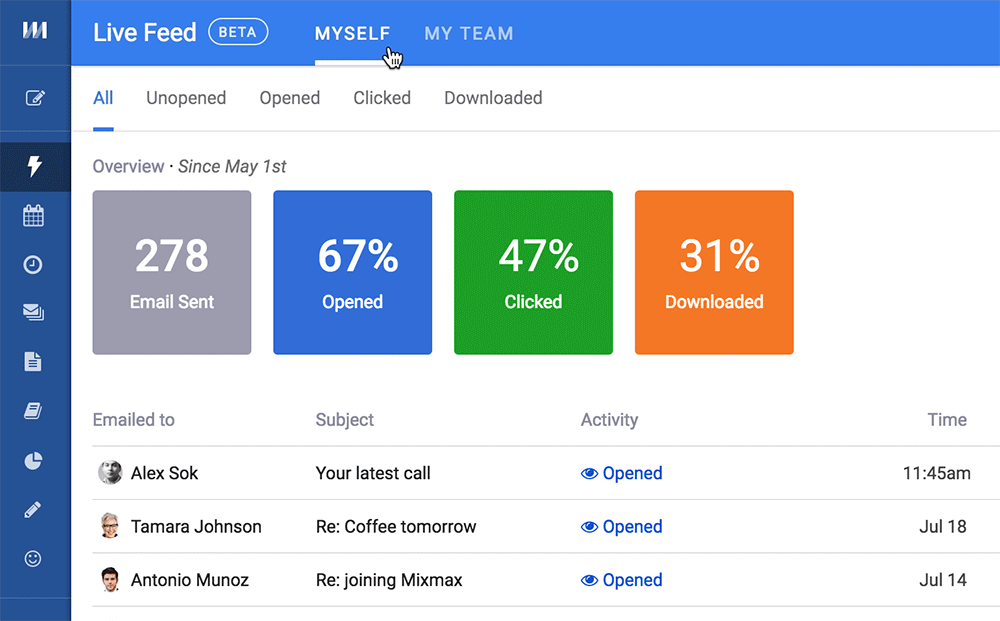 Woodpecker.co - prospecting is what this tool was built for. If you're serious about prospecting, their laundry list of features is so rich that even at $40/Mo., this is a steal. If you've grown out of gmail, but don't have an engineer at your beck and call, or someone that's an expert at cold outreach, this is where you should look.
IMPORTANT WARNING!!!


This stuff is hard and there is a huge risk/reward spectrum. If you're thinking about email prospecting, take a moment to speak with someone who has experience doing it, so you don't learn the hard way. Don't say we didn't warn you.